Homes near Eielson AFB (Air Force Base), Alaska
Eielson Air Force Base has been an active duty military post since 1941. Home of the 354th Fighter Wing, personnel assigned to the base, or civilians who work there, have a wide range of options when it comes to owning homes near this installation. The small city of North Pole is only 12 miles away, with Fairbanks 26 miles to the north. Several homes in North Pole were constructed on subdivided and unsubdivied land in the 1940s and 1950s, for those desiring older houses for sale. Because of its name, many streets have Christmas themed decorations like candy cane painted street lights. Such streets include Santa Claus Lane, St. Nicholas Drive, and Snowman Drive.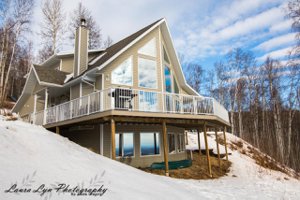 Education Overview
Public education needs in the area near Eielson Air Force Base are served by the Fairbanks North Star Borough School District. Three schools are located within the city limits; North Pole Elementary, North Pole Middle School, and North Pole High School. The elementary school scored above the state average in English, while the middle high schools exceed state average test scores in Science.
Homes near Eielson AFB for sale
Many newly listed houses in North Pole have a median price of around $211,000 dollars. There are new homes with two to three bedrooms and two to three bathrooms available for between $169,000 and $275,000. Be sure to check our mls listings to find all homes for sale in North Pole.
Things to do
Nature lovers living in North Pole can head to the Chena River State Recreation Area for fun activities on land and water, such as camping, hiking, biking, and fishing. Annual events in the city include the Fourth of July Celebration, the Winter Festival, and Christmas in Ice, which features lit up ice sculptures. Unique landmarks for the city include the Santa Claus House and the City Hall Totem Pole.